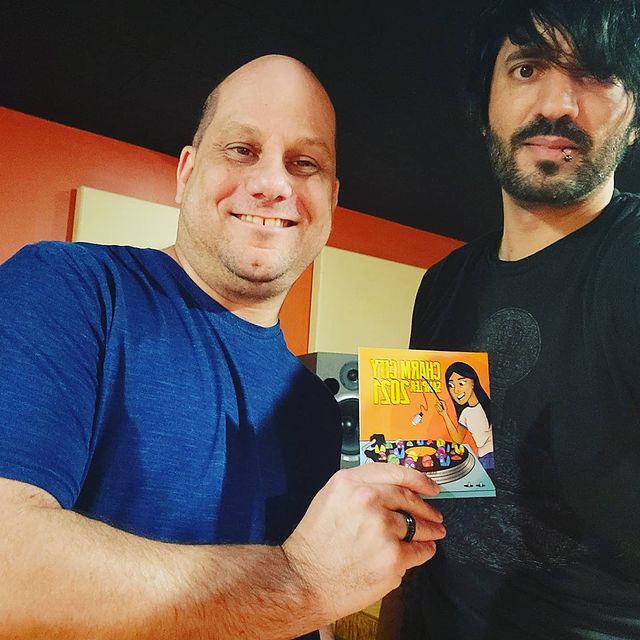 * Introduce us to the band! What are your names and what do you do in the band?
Don Huffman, lead singer and founder of the project. I've enlisted multiple guest artists for
the first two albums "Decompose" and "Chaos Serum" including Dean Michaels (lead guitar,
Novarium), Tim Wallace (lead guitar, Goodbye July), and David Weston Gregory Jr (lead guitar).
Tony Correlli is the producer/engineer and was lead composer on both albums.
Northern Virginia is my base of operations while I record at Deep End Studios in Middle River,
Maryland.
How long have you been together as a band and how did you find each other?
This project was started in 2019, and I met Tony the producer through a mutual musician back in 2014. I sat in on a session for my friend's band and immediately felt a great musical connection. We have been recording ever since.
Do you have a special songwriting recipe you follow?
I found the best recipe for me is to find a certain riff and then come to the studio. We'll start with the rhythm guitar section, then drums, and then I will begin the lyric writing stage for the vocal recording. Some songs are instantly made, some just take some time to generate.
How would members of your family describe your music to someone that hasn't heard it?
Hard rock, EDM, industrial, and synth are some definite classifications. It's a diversified mix of sounds and vocals.
What do you have on your (Spotify) playlists you would be embarrassed for others to see?
Music to me can never be embarrassing. We all flow to our own favorite beats. I have a love for many different genre types. N'SYNC would probably be the weirdest type of music connected to my tastes haha.
Who have you met that has left you starstruck?
I had the opportunity to meet U2 in Washington DC. Just a great bunch of guys who take the time to talk with you and make you feel like the most important person in the room at that
moment.
What do you consider your greatest achievement as far as a band?
We have been official selections for two film festivals for our music video "Static". Waiting on numerous other festivals to see if we've made the cut.
What key elements do you believe makes up a successful song?
Strong vocals, killer guitar riffs, thumping bass, and some incredible drums. I think we can just say rock personified.
* When writing, how do you know when it is finally done?
I'm always looking to perfect a song throughout the process, but the hardest part is saying "ok, I think we've done everything we can with this one". There is always the danger of excess. You want to maintain that raw energy of the early process and not muddle it with too much sound.
* What song of yours are you most proud of?
There's a song I wrote with Kurtis Goad called "The Hands We Once Held". It was performed on my precursor project to Farewell Fortune called "Huffman". The song was played in England for 3 years and was written for my wife who had lost her children in a custody battle. The song was very powerful for her, and I'm honored I was able to bring some clarity to her world in those moments of grief.
*What can BleachBANGS do to help you in any way? 
Just keep supporting, not only Farewell Fortune, but the unbelievable amount of unsigned acts out there struggling to have their music heard. Absolutely am thankful for this opportunity and appreciate all the support of your fans as well!
* How can everyone keep up with everything you have going on? Where can they get 
albums/merch?
Albums are available on all digital outlets and merchandise can be obtained at the following link..
https://www.bonfire.com/farewell-fortune/
Formed in 2019 by founder Don Huffman, Farewell Fortune has already released their debut
album "Decompose". The 7 song LP dropped on June 3rd, 2022 and includes the songs
"Unleash", "Decompose", and "Tightrope". The album was recorded at Deep End Studio under the production of notable engineer Tony Correlli.
The follow up album, "Chaos Serum", released on April 28th, 2023.
Farewell Fortune consists of lead singer/vocalist Don Huffman, and composer/producer Tony Correlli. Guest appearances include Dean Michaels (Novarium), David Weston Gregory Jr., Tim Wallace (Goodbye July), Paul Provensano, Matthew Berry (Classified Frequency), and Gary Holmes.