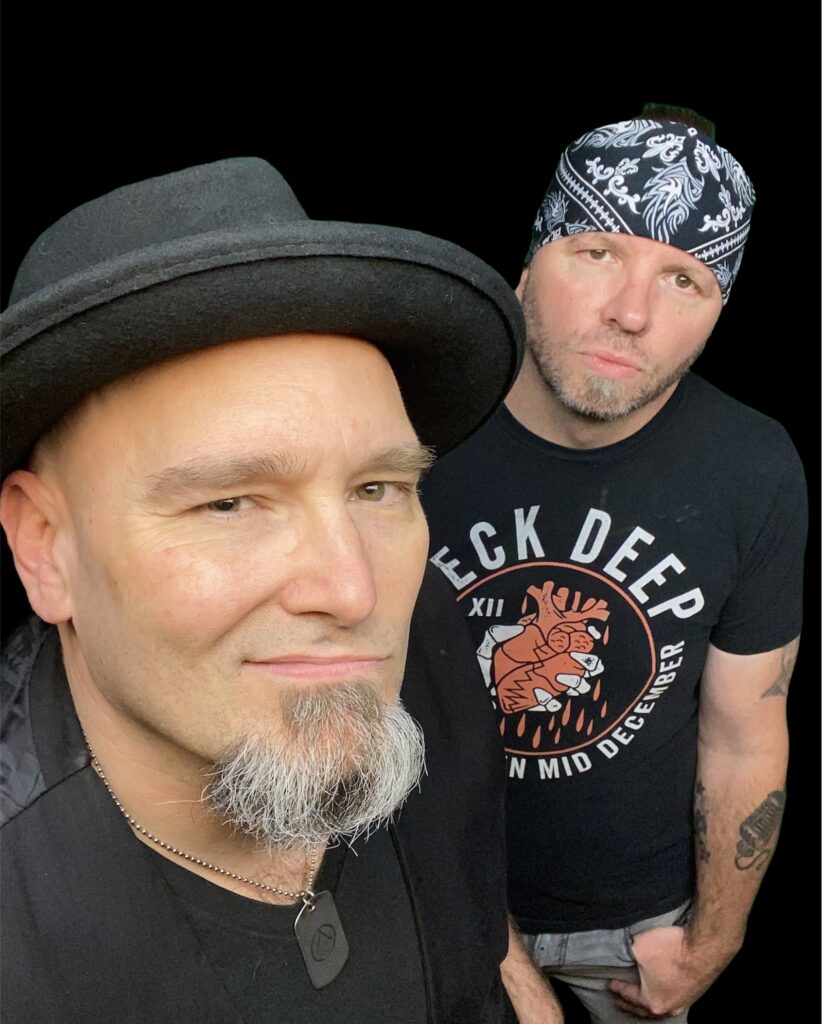 1. Introduce us to the band! What are your names and what do you do in the band? My name is John Merchant. I'm the singer, guitarist, chief-lyricist, and co-founder of the band with my longtime friend and bandmate Todd Long. I live in Michigan, USA. My partner Todd is currently living in Florida.
Where do you call home?
2. How long have you been together as a band and how did you find each other? We've been together as Ghosts of Sunset since 2019 or so. Todd and I met in high school and have been writing, recording, performing and touring together for over 30 years now.
3. Do you have a special songwriting recipe you follow? Usually, it starts with some sort of musical idea or riff. Then we "rough out" a melody and some scratch lyrics. As the lyrics and melody are evolving, we keep adding or taking away parts to re-enforce the narrative.
4. How would members of your family describe your music to someone that hasn't heard it? Boy, that's a great question. I have no idea. "Rock"?
5. What do you have on your (Spotify) playlists you would be embarrassed for others to see? Nothing. I like what I like.
6. Do you have any pre-show rituals? Does peeing 800 times count as a ritual? And I always have to take 801 right as I'm walking on.
7. Who have you met that has left you starstruck? For sure. Usually, I just shut up or try to connect a non-music interest.
8. What do you consider your greatest achievement as far as a band? Finding an audience who enjoys what we're doing.
9. What key elements do you believe makes up a successful song? Connection to the listener.
10. When writing, how do you know when it is finally done? For me, it's when Todd likes it and gets excited about it.
11. What song of yours are you most proud of? I really like them all. We try not to release them until we're happy and enjoy listening to them.
12. Is it possible to be on the road and not eat junk food? How do you keep it leveled out? Todd was always great at that. Subway is the key!
13. Are you able to write while on the road or do you need a calm familiar space like home? I really like to do it at home. It takes me a long time and I have pages and pages of lines, etc.
14. What's the most embarrassing thing to happen on stage or on tour? Falling always sucks.
15. What can BleachBANGS do to help you in any way? First of all we really appreciate you talking to us. Share links, spread the word, encourage folks to a point of purchase! Thank you!
16. How can everyone keep up with everything you have going on? Where can they get albums/merch? Most of that can found via our record label Deko Recordings. Their website has connections for all those things.
17. Please provide a short bio:
After drawing attention to themselves in 2020, with their debut EP Headed West, and 2022 follow up LP No Saints In The City, the duo of singer-songwriters John Merchant (former Dutch Henry frontman) and multi instrumentalist Todd Long (previously with The Verve Pipe) aka Ghosts Of Sunset have returned with their next shot of melodic hard rock, Breathe.
With Merchant and Long living in Michigan and Florida respectively, both the writing and recording process for Breathe were a bit unconventional and at the same time, par for the course with 21st Century technology.
"We did all our recording via File Sharing," says Long. "First, one of us will have an idea and then we just start sending mp3s back and forth while building the track up. After a basic track was completed, we'd then seek out who we feel might be right to put a guitar solo on it. If they like the track, then we proceed. If they don't then that's fine too. We just hoped they feel connected enough to the track to want to contribute."
Merchant continues, "The opportunity to make a follow up full length album was an absolute blessing and a daunting task. Unlike some writers, we're always hoping our influences are noticeable, but we want them to be surprising and revealing as well. With this set of songs, we wanted to keep the door open for anything that moved us. They tell you where they want to go and we are open to whatever gets them to their destination. These songs take listeners from such sweeping landscapes as an oriental spy adventure, to something as internal and personal as the struggle of loving someone battling addiction. The musical compositions are as important as the lyrics to tell the stories that need to be told."
The first single, "Afterthought", will be released on February 17. Pre-save "Afterthought" here.
"Afterthought" is the first single and Long explains, "When I was writing 'Afterthought', I was looking to write an album opener. John wrote 'Tonight' off of our 1st full length album No Saints In The City. I wanted to try and write one that was just as killer as that one. Who knew it would be our 1st single? I'm like a proud father!"
Merchant adds, "'Afterthought' started with another amazing Todd Long riff that celebrates punk rock's concise, no nonsense, "get to the point" structure. Lyrically the song speaks to the "seen not heard" role played by the arm candy of someone whose narcissistic ego blinds them to the fact that true beauty is found far below surface physical good looks."
Ghosts Of Sunset not only pays homage to the 1980s "hair metal" scene they grew up on (Quiet Riot, Ratt, Motley Crue, Warrant, Faster Pussycat, GnR, etc.) but for music fans whose tastes run deep, Breathe touches upon post punk aggression, melodic rock choruses and a quirky Cheap Trick spin on top of it all.