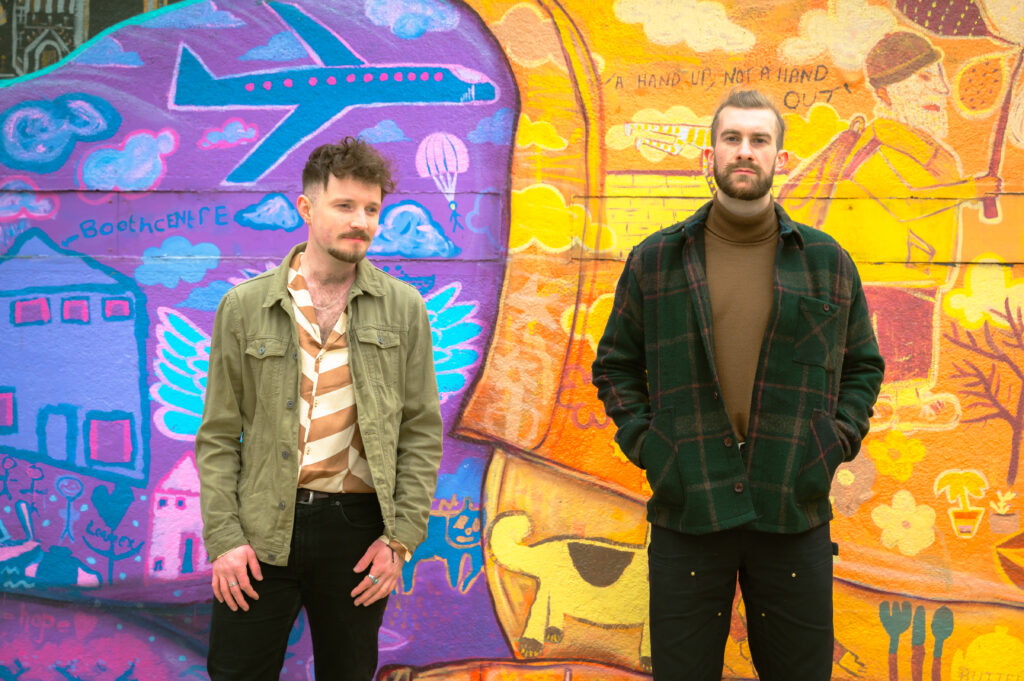 * Introduce us to the band! What are your names and what do you do in the band? I'm Jonny and I sing and play guitar. 
* Where do you call home? Stockport, or wherever we lay our hat. 
How long have you been together as a band and how did you find each other?
We met at music college in Liverpool where we were flatmates and although we toured in bands separately for years, we finally came together to write remotely over an online beer in the lockdowns!
Do you have a special songwriting recipe you follow? No but got a banging one for some enchiladas: 1 chicken (whole) 2 red onions, half a bulb of garlic, oregano, red bell pepper, smoked paprika, 4 ancho chillies (dried), tomato paste, lime, coriander, manchego cheese, 8 tortilla wraps, salt and pepper. (I cannot disclose the method without a bribe unfortunately).
How would members of your family describe your music to someone that hasn't heard it? Fun, happy, feel good and Jonny sounds like he's impersonating his cat when he sings
What do you have on your (Spotify) playlists you would be embarrassed for others to see? Nothing, we have no shame.
Do you have any pre-show rituals? Just a bit of morris dancing to limber us up.
Who have you met that has left you starstruck? Jonny – Paul McCartney. While at Liverpool Institute for Performing Arts I had a songwriting tutorial with him that was amazing/terrifying, he is really tall and wears Velcro strap shoes.
What do you consider your greatest achievement as far as a band? Our sold out hometown launch for our debut EP
What key elements do you believe makes up a successful song? See recipe above.
When writing, how do you know when it is finally done? It's never finally done – there are always more tweaks wanting to be made but there comes a time when you have to say enough is enough!
What song of yours are you most proud of? All of them, even the ones that didn't make the cut.
Is it possible to be on the road and not eat junk food? How do you keep it leveled out? For every service station ready meal – counter it with a mouthful of grapes, life is about balance.
Are you able to write while on the road or do you need a calm familiar space like home? Writing at home is safer – lot's of hazards on the road…
What's the most embarrassing thing to happen on stage or on tour? (Jonny) I once jumped onto an amp that I didn't realise was on wheels and slid off the stage, whoopsie! XD
What can BleachBANGS do to help you in any way? Heck if we know.
How can everyone keep up with everything you have going on? Where can they get albums/merch? All your favourite streaming platforms and social media sites
Please provide a short bio:
After meeting on a camping trip in 2014, Jonny Ball (guitar/vocals) and Jack Batchelor (drums) became good friends. Both going on to perform in successful bands – the pair have previously supported big name acts like The Libertines, Feeder and Glassjaw between them.
Forming Slomo Casino in 2021, they band waves in Greater Manchester with their floaty, feel good indie-pop debut. 'Marshmallow' garnered buzz and radio plays from the likes of BBC Introducing Manchester and Amazing Radio, culminating in a sold out debut headline show in Manchester in late 2021.
Slomo Casino's title track "The Altar" will be released on April 7th, with the full EP to follow later this year.