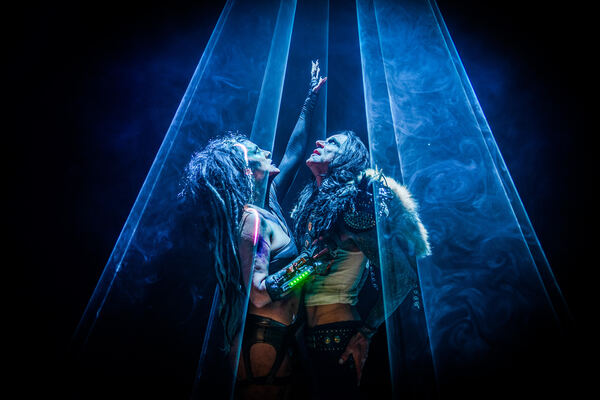 COP International is proud to announce the signing of Nashville rock act Beasto Blanco to its growing artist roster, and will exclusively release two new singles from the band in 2023 followed by a full-length album in 2024, supported by upcoming tour dates.
"We were approached by Eric Burton / Schubert Music about signing Beasto Blanco, and as soon as we heard that Chuck Garric (bass, Alice Cooper) and Calico Cooper fronted the band, we were very interested," says Christian Petke, founder of COP International Records. "I saw Beasto Blanco for the first time in Germany at the Waldstation in Frankfurt. They were opening for the Böhse Onkelz in front of a massive crowd of 50,000-plus people. It was an absolute high-pressure situation, as Böhse Onkelz fans are notorious for not taking kindly to opening acts. However, Beasto stood their ground and absolutely nailed their set. The mayhem Beasto created on stage radiated out into the audience, creating an insane feedback loop that left us all breathless. In that moment, I knew that we had a winner – a band capable of delivering an electrifying performance in the most challenging of circumstances."
Burton suggested COP bring in Chris Harms (Lord Of The Lost) as the producer for the album, which turned out to be a brilliant match. "We were looking for a sound that was inspired by bands, movies, and lyrical concepts that inspired Beasto Blanco. Chris instantly got that vibe," says Calico Cooper. "We flew to Hamburg to track the vocals, finished the writing in February, and the sessions were creative and amazing in a city with great energy!"
Chris Harms adds, "Working with Beasto Blanco was one of the most creative and exciting productions of my producing career. For a few months, I was allowed to dive into the band's world so deeply that it felt like I was part of the band. We wrote, recorded, and produced songs together, with great attention to detail and no genre boundaries. Everything that felt good was right. I'm very proud of this album, which, for me, is a milestone in BB's career!"
"We will drop two singles in the second half of this year," says Chuck Garric. "I will be touring with Alice Cooper and Rob Zombie in the fall, and we want to use this opportunity to introduce some of the new material to the fans. We will release the new album early 2024 and are planning some extensive touring to support the record. … . Beasto Blanco is my inner beast, my spirit animal, the thing that I turn into when I hit the stage," he says.
Beasto Blanco bass player Jan LeGrow adds of the connection to COP International Records, which has distribution in Germany and America, "Germany is home to us. Literally home. I was born and raised in Köln, Germany. Beasto has rocked in stadiums and arenas around Germany, Switzerland, and Austria. Our first time rehearsing as a band was in Zurich, Switzerland, so it is really fitting that we are signed to a German / American label and publisher. We love our Deutsch Amerikanische Freundschaft."
Blood, sweat, and gasoline are fueling Beasto Blanco's explosive rock sound and captivating visuals. A band and an audience united in one inseparable union of musical thunder and sensational spectacle: Welcome to the world of Beasto Blanco. Whether illuminated in the spotlights of cavernous arenas or headlining packed theaters and clubs, the band's mission is unwavering: To create an immersive experience where everyone is welcome to join an extended family whose support is unconditional and authentic.
More announcements regarding Beasto Blanco will be forthcoming in 2023.

About COP International
Now in its 32nd year, COP International's expanding roster of artists includes Stabbing Westward, Azam Ali, Chiasm, Blackcarburning, Deathline International, Suicide Queen, La Muerte, unitcode:machine and latest signee, Beasto Blanco. The label reached a turning point in 2019, teaming up with legendary producer John Fryer to form a production company under the COP International umbrella. Fryer is producing and engineering the majority of the forthcoming COP catalog and also working as A&R in helping to select appropriate acts. "The level of craftsmanship, artistic talent and meticulous attention to detail is what sets John's work a world apart," says COP International founder Christian Petke. "Our philosophy is quite simple: Find exceptional talent, don't limit ourselves or the artists, and build a tribe based on the excellence of the releases. We have signed a couple bands that have major chart potential based on previous entries, and we are very excited about our projects for this year. Another thing that is rather important to us is a certain level of closeness and mutual appreciation we have as label and artist. It is our responsibility to provide a nurturing environment that allows the artist to focus on their craft. We support and shield them and provide the business machinery that will develop their full potential."
Find Beasto Blanco online:
Website: https://www.beastoblanco.com/
Facebook: https://www.facebook.com/BeastoBlanco/?pnref=lhc
Instagram: https://www.instagram.com/beastoblanco/
Twitter: https://twitter.com/BeastoBlanco